CES 2017's Best Game-Changing IoT Inventions
For years now, Internet of Things capability has been a prominent theme at CES -- arguably the world's most significant technology tradeshow.
And last week IoT was purported to be "the biggest star" of CES 2017, where smart sensors were a must-have and "put a chip in it" was the motto of almost every technology vendor present.
IoT was so prevalent that even the most avid enthusiasts with unlimited stamina would've struggled to sample the great number of IoT gadgets available across the four days.
But you're in luck! We've compiled our list of the most significant and stand-out IoT products showcased by vendors at CES this year.
— Jeremy Coward, Community Manager, IoT World News

The CES 2017 attendees we spoke to agreed that there's one stand-out IoT event to attend in the United States this year -- Internet of Things World. Apply to speak, sponsor, book or attend the exhibition for free at the world's biggest IoT event this May!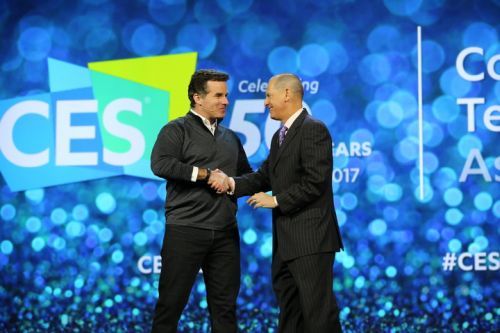 In Gothenburg more so than other burgeoning smart cities, silos are seen as the enemy. And no one knows this better than Ann-Louise Hohlfält, urban development officer for the City of Gothenburg.
Virtual reality and augmented reality remain nascent technologies, but Mastercard is already working on its plans to leverage them as they anticipate mass adoption among consumers.
We speak with Rinat Guy, CIO for the Municipality of Israel's award-winning smart city.
Industrial internet leader Bosch tells us about the IoT power tool products their working on & how long until these solutions hit the mass-market.
Our interview with Boeing Senior Systems Engineer Robert Rencher reveals that aviation IoT has implications for digital factories and supply chains, but its the operational environment where the biggest inroads will be made.

May 16-18, 2017, Santa Clara Convention Center

May 16-18, 2017, Santa Clara Convention Center

May 16-18, 2017, Millennium Gloucester Hotel, London

June 13-15, 2017, ExCeL, London

June 13-15, 2017, ExCeL, London
All Upcoming Live Events
Tuesday, March 14, 2017
1:00 p.m. EST
Identifying and solving the practical security challenges encountered by businesses embarking on an Internet of Things deployment.
Realizing your company's IoT vision starts with connecting and securing your infrastructure. IoT infrastructures require organizations to collect and transmit commands and data from devices, applications and people -- securing all of this is a sizeable challenge.
Our expert panelists will identify and solve the key issues that arise during this process, enabling a safe and steady beginning to your organization's IoT journey.
The webinar will cover:
Identity Issuance: Security at Scale
Identity Management: Authentication and Authorization
Identity and Data Security: Data Integrity and Granular Policy Definition
Webinar attendees will learn:
How to ensure that data is only accessed by authorized devices, applications and users in an IoT setting
Methods for transmitting data from devices in the field to value engines securely and efficiently
Best practice for implementing tried-and-trusted IoT ecosystems and safeguarding data flow across your company's entire infrastructure
How to create a holistic and protected IoT ecosystem for your company