CES 2017's Best Game-Changing IoT Inventions
For years now, Internet of Things capability has been a prominent theme at CES -- arguably the world's most significant technology tradeshow.
And last week IoT was purported to be "the biggest star" of CES 2017, where smart sensors were a must-have and "put a chip in it" was the motto of almost every technology vendor present.
IoT was so prevalent that even the most avid enthusiasts with unlimited stamina would've struggled to sample the great number of IoT gadgets available across the four days.
But you're in luck! We've compiled our list of the most significant and stand-out IoT products showcased by vendors at CES this year.
— Jeremy Coward, Community Manager, IoT World News

The CES 2017 attendees we spoke to agreed that there's one stand-out IoT event to attend in the United States this year -- Internet of Things World. Apply to speak, sponsor, book or attend the exhibition for free at the world's biggest IoT event this May!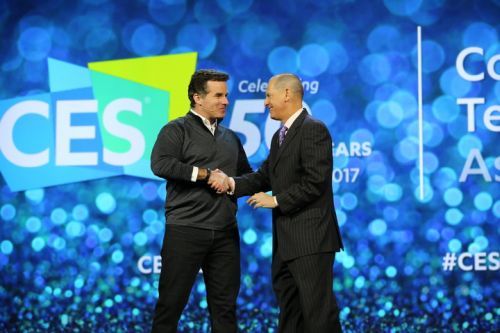 After much anticipation, the floodgates for industrial IoT use cases are beginning to creak open, with manufacturing and supply chains leading the way ahead of construction, oil and gas, and other similar markets.
Nicola Villa is an IBM veteran who currently fills two job roles for the tech behemoth. Ahead of June's Internet of Things World Europe conference, he talked IoT World News through IBM's Bavarian-based IoT playground.
As the popularity of the IoT grows exponentially, there's one question on the lips of every cyber enthusiast, expert and security expert out there: how will organisations, individuals and industries keep their networks secure? Harman has some answers.
In Gothenburg more so than other burgeoning smart cities, silos are seen as the enemy. And no one knows this better than Ann-Louise Hohlfält, urban development officer for the City of Gothenburg.
Virtual reality and augmented reality remain nascent technologies, but Mastercard is already working on its plans to leverage them as they anticipate mass adoption among consumers.

May 16-18, 2017, Santa Clara Convention Center

May 16-18, 2017, Santa Clara Convention Center

May 16-18, 2017, Millennium Gloucester Hotel, London

June 13-15, 2017, ExCeL, London

June 13-15, 2017, ExCeL, London
All Upcoming Live Events
Thursday, April 20, 2017
12:00 p.m. EST
2017 has seen the size, scope and awareness of the internet of things continue to grow at considerable pace.
And while corporate latecomers hastily stitching together their first attempts at an IoT strategy, the market leaders are already planning for IoT's next step — where artificial intelligence and data analytics meet to provide a new frontier of insights and opportunities.
Our panel of experts, selected from the Internet of Things World 2017 speaker line-up, will share their views on how enterprises and industries will be leveraging the next generation of IoT capabilities — spanning machine learning, predictive analytics and more — and what the outcomes will be.
The expertise of our speakers spans both the private and public sector, and the implications of IoT, analytics and AI for both enterprise and government will be covered.
Webinar attendees will discover:
What businesses & industries can expect to gain from advances in IoT, AI & analytics
Existing use cases for the application of AI & analytics in IoT across verticals
The companies to watch for next generation IoT & AI applications
What your business should be doing now in order to access these capabilities & benefits
How benefits & strategies for IoT & AI differ for the public & private sectors
Thursday, June 1, 2017
12:00 p.m. EST
In an industry where production yield and efficiency are tantamount to success, quickly identifying and correcting defects in the manufacturing process is critical. The customers of Optimal+ operate in production environments where errors related to yield and efficiency measurements can lead to losses of millions of dollars per year within a single plant. By implementing Vertica, Optimal+ is able to speed up analytical insights, combine data from different productions processes and gain visibility across the whole supply chain – leading to improved yield, quality and productivity for semiconductor and electronics manufacturers.
Join Alon Malki, Chief Architect at Optimal+, and Jeff Healey, Director of Product Marketing at HPE Vertica, to hear how advanced analytics and manufacturing intelligence can drive success in Industrial IoT. On this webinar you'll learn:
Why HPE Vertica Analytics Platform is purpose built for IoT data
The challenges Optimal+ faced when developing a solution for IoT analytics
How Optimal+ leverages HPE Vertica to create an ideal big data architecture