CES 2017's Best Game-Changing IoT Inventions
For years now, Internet of Things capability has been a prominent theme at CES -- arguably the world's most significant technology tradeshow.
And last week IoT was purported to be "the biggest star" of CES 2017, where smart sensors were a must-have and "put a chip in it" was the motto of almost every technology vendor present.
IoT was so prevalent that even the most avid enthusiasts with unlimited stamina would've struggled to sample the great number of IoT gadgets available across the four days.
But you're in luck! We've compiled our list of the most significant and stand-out IoT products showcased by vendors at CES this year.
— Jeremy Coward, Community Manager, IoT World News

The CES 2017 attendees we spoke to agreed that there's one stand-out IoT event to attend in the United States this year -- Internet of Things World. Apply to speak, sponsor, book or attend the exhibition for free at the world's biggest IoT event this May!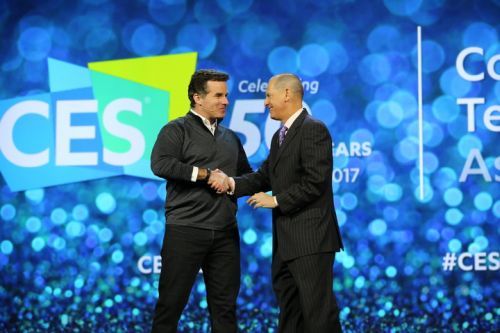 To make our IoT coverage as comprehensive and authoritative as possible, we're delighted to announce that our website is merging with The IoT Institute.
Deep drilling is more crucial to Royal Dutch Shell than ever – except now much of the precious resource they're after is digital. Shell IT CTO Johan Krebbers tells us how IoT is essential for capturing data, but is otherwise a relatively small part of their overall digitalization agenda, in this exclusive interview.
The route to super-connected events, virtual reality stores and 100% mobility across entire populations are all now in reaching distance thanks to the internet of things.
When logistics improves, all industries benefit. DHL Supply Chain's CIO explains to us how AI and IoT are changing the game for his company, its partners and its competitors.
When Europe's smart city prowess is discussed, Russia is frequently overlooked - very unfairly, as our interview with the head of Moscow's smart city lab shows.

October 2-4, 2017, Marina Bay Sands, Singapore
All Upcoming Live Events
Thursday, June 1, 2017
12:00 p.m. EST
In an industry where production yield and efficiency are tantamount to success, quickly identifying and correcting defects in the manufacturing process is critical. The customers of Optimal+ operate in production environments where errors related to yield and efficiency measurements can lead to losses of millions of dollars per year within a single plant. By implementing Vertica, Optimal+ is able to speed up analytical insights, combine data from different productions processes and gain visibility across the whole supply chain – leading to improved yield, quality and productivity for semiconductor and electronics manufacturers.
Join Alon Malki, Chief Architect at Optimal+, and Jeff Healey, Director of Product Marketing at HPE Vertica, to hear how advanced analytics and manufacturing intelligence can drive success in Industrial IoT. On this webinar you'll learn:
Why HPE Vertica Analytics Platform is purpose built for IoT data
The challenges Optimal+ faced when developing a solution for IoT analytics
How Optimal+ leverages HPE Vertica to create an ideal big data architecture