One of the most important IoT developments in 2017 will be the first commercial deployments of new licensed-spectrum low-power wireless access (LPWA) technologies - NB-IoT and LTE-MTC-Cat M1 (LTE-M).
Combined with the ongoing deployment of unlicensed spectrum LPWA network technologies such as Sigfox (now targeting deployment in 66 countries) and LoRa, this should open up internet of things opportunities to a host of new industries and use cases.
The potential utility of LPWA networks for "mass deployment" IoT in some sectors seems clear-cut, based on the promise of low-cost, long battery life IoT devices that can enable much wider-scale IoT deployments.
But take-up of LPWA technologies operating in unlicensed spectrum has been relatively slow to date. The finalization of three cellular-based LPWA standards – NB-IoT, LTE-MTC Cat M1 (LTE-M) and EC-GSM – by the 3GPP body in June 2016 has driven an acceleration in the number of pilots and deployment announcements from mobile operators across the world. Standardization should ultimately lead to lower costs for NB-IoT and LTE-M modules and devices. EC-GSM is finding fewer supporters, thus far, and may ultimately have limited reach.
Likely early use cases for both licensed and unlicensed spectrum LPWA technologies include low-cost, long-life IoT solutions for utilities, m-health, smart homes and buildings, and smart cities.
Mobile operators, unsurprisingly, are touting the security aspects of using licensed spectrum for LPWA. Unlike the unlicensed spectrum LPWA technologies, deploying NB-IoT and LTE-M can (at least in some cases) be quick and straightforward for MNOs that are already operating LTE networks, who can often deploy cellular LPWA network services through a software upgrade to their existing cellular infrastructure.
NB-IoT is looking the likeliest of the cellular LPWA technologies to dominate in the connectivity race. European operators have been big supporters of the technology, led by Vodafone which is planning commercial NB-IoT launch in four European markets in 1Q 2017, following successful trials in Spain this year.
Many Asian MNOs are also favoring NB-IoT. Huawei, a strong proponent of the technology, has been successful in leveraging its existing presence in the region to pull in operator support for the standard. A number of operators in Asia's major M2M markets, including Japan, South Korea, Australia and China are already working on commercialization of NB-IoT and conducting large scale field trials.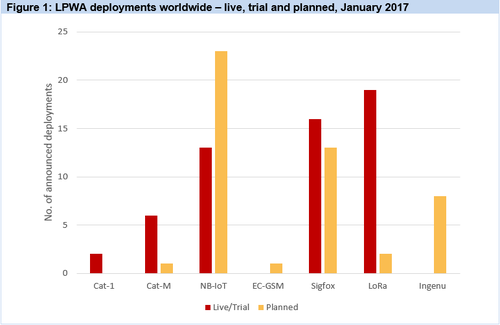 However, LTE-M is finding good traction in the North American market, and among some Asian operators. AT&T trialed the technology in San Francisco in November 2016, in partnership with Ericsson, Qualcomm and Sierra Wireless among others, working with several end user organizations testing out metering and retail applications. The operator has announced plans to "commercialize LTE-M technology" in 2017. Verizon has announced similar plans. In Asia, Korea Telecom has a live LTE-M network, while Softbank and Telstra are planning deployments.
KPN is the only European operator so far to opt for LTE-M (Cat-M1), having recently completed a trial and announced that it plans to have LTE-M operational on its network by the end of 2017, along with its existing LoRa and M2M IoT options.
The outlook for unlicensed spectrum LPWA may well be fairly niche, and this may constrain demand. But Ovum still sees opportunities for unlicensed spectrum LPWA, particularly for service providers who do not already operate mobile networks, for private networks, and in "campus"-type environments.
There are also indications that some MNOs are looking to offer both licensed and unlicensed spectrum LPWA IoT services. A number of telcos are trialing or deploying multiple LPWA technologies including Orange, which has already set up a LoRa network covering much of France but also trialed EC-GSM in 2016, and South Korea's SK Telecom, which has stated it supports LTE-M while deploying a LoRa network and investing directly in Sigfox.
Some service providers may look to offer unlicensed spectrum LPWA connectivity via MVNOs, so as not to detract value or focus from their cellular-based IoT offerings.
Given the wide range of use cases the IoT will need to address, diversity of solutions and technologies is going to remain a characteristic of this market going forward – and supporting these will be a core capability requirement for both service providers and platform developers.
Diversified IoT technology plans will become standard practice for leading network operators, and LPWA offerings will be a key element of this. And as they take forward their LPWA plans, market players should also bear in mind the potential for inexpensive, hyper-low bandwidth LPWA-based IoT solutions to enable (or indeed force) the development of new disruptive business models, for both providers and end user organizations.
— Alexandra Rehak, Practice Head - IoT, Ovum
(This article was originally published by Ovum)

Networks are a key topic on the agenda at Internet of Things World in Santa Clara this May. Sample our speakers, preview the agenda, claim your free expo pass or book your place at the conference for the world's biggest IoT event!