Backtrack just two years, and you might recall that the internet of things (IoT) was widely recognized as a series of connected devices found in smart homes and on wearable clothing. Few foresaw its relevance in factory settings; the idea was largely unexplored.
In 2017 industrial IoT (IIoT) is all the rage, and with good reason. The transformation of industrial products, operations, supply chains and aftermarket services through the ubiquitous use of sensors, software, wireless connectivity and information systems, will result in untold levels of accuracy, efficiency, automation and data insights.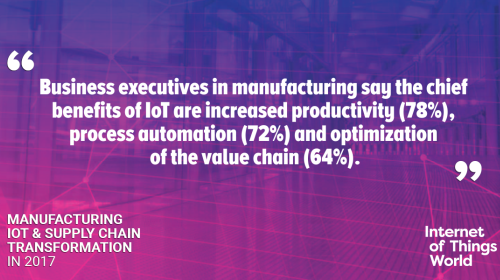 McKinsey predicts that "The potential value that could be unlocked with IoT applications in factory settings could be as much as $3.7 trillion in 2025, or about one-third of all potential economic value that we estimate". In less than 10 years, industrial companies may owe one-third of all revenue they generate to systems that aren't even in place yet, to the tune of trillions.
After much anticipation, the floodgates for industrial IoT use cases are beginning to creak open, with manufacturing and supply chains leading the way ahead of construction, oil and gas, and other similar markets.
And about time! By 2020, It is thought that the worldwide manufacturing, transportation and utilities sectors will be spending $40 billion a piece on IoT, with other verticals following not far behind.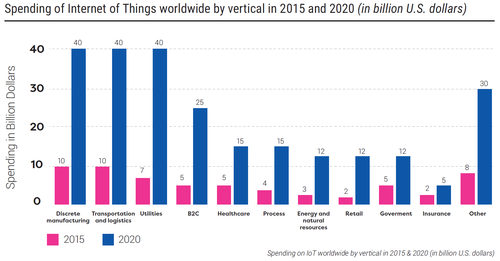 And while consumer IoT will remain the dominant force in terms of IoT devices installed, the combination of vertical-specific IoT devices and those that can be applied across industries will make up a sizeable chunk of the total number IoT applications globally.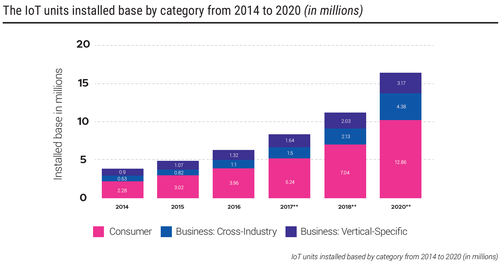 Even now the market leaders are beginning to define themselves. The likes of General Electric and Bosch are defining the vision of what it means to build a "smart" factory, and therefore the vision of future manufacturing and industrial IoT generally — long-time IBM veteran Nicola Villa recently told IoT World News the tech behemoth expects manufacturing to be the breakthrough sector for Industry 4.0's eagerly anticipated roll-out.
The very same organizations, alongside the likes of Cisco, SAS and DHL, are utilizing the same developments to benefit entire supply chains, end to end and across a diverse array of sectors.
"From a supply chain perspective, the hype of big data and machine learning is best converted into value through predictive analytics," DHL CIO Paul Richardson recently wrote for IoT World News, "using insight to better plan and execute operations."
These insights and more are now available in our Manufacturing IoT & Supply Chain Transformation in 2017 report, which is free to download.
The report contains an analytical view of the state of IoT in manufacturing and supply chains in 2017, alongside interviews with the market leaders who've taken up the mantle of translating this IIoT hype into action. It features:
The Analyst's View: The state of IoT for manufacturing & supply chains in 2017
The Market Leaders: Interviews with GE & others leading the way with their industrial IoT
How many IoT devices will be installed for consumers, businesses & across industries in the next 3 years
Which industries spend the most on IoT now & which will be spending the most in 2020
— Jeremy Coward, Community Manager, IoT World News

Get a 15% discount on your ticket with VIP code WORLD15. Apply code now >>
IoT for industries and enterprises is the key focus of the agenda at Internet of Things World in Santa Clara this May.Sample our speakers, preview the agenda, claim your free expo pass or book your place at the conference for the world's biggest IoT event!