Infographic: How Blockchain Can Help Cybersecurity for the Internet of Things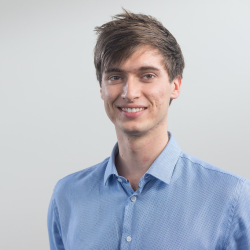 Two years ago Gartner claimed there will be over 25 billion smart devices in use by the year 2020; 2013 saw Cisco says the global internet of things market will be worth approximately £14.4 trillion by 2022.
With this gargantuan industry looming on the horizon, the tech community is awash with fears over how we're going to keep these IoT networks secure.
Never fear - it turns out that blockchain may have valuable uses well beyond Bitcoin and cryptocurrency. The following infographic offers an explanation of what blockchain is, how it works, and why any CISO worth his or her salt should be brushing up on their blockchain knowledge as the IoT revolution takes hold...

— Jeremy Coward, Community Manager, IoT World News

Want to learn more about how blockchain is penetrating the IoT market? There's an entire track dedicated to blockchain at Internet of Things World 2017 in Santa Clara this May.
Sample our speakers, preview the agenda, claim your free expo pass or book your place at the conference for the world's biggest IoT event!

May 16-18, 2017, Santa Clara Convention Center

May 16-18, 2017, Santa Clara Convention Center

May 16-18, 2017, Millennium Gloucester Hotel, London

June 13-15, 2017, ExCeL, London

June 13-15, 2017, ExCeL, London

October 2-4, 2017, Marina Bay Sands, Singapore
All Upcoming Live Events
Thursday, June 1, 2017
12:00 p.m. EST
In an industry where production yield and efficiency are tantamount to success, quickly identifying and correcting defects in the manufacturing process is critical. The customers of Optimal+ operate in production environments where errors related to yield and efficiency measurements can lead to losses of millions of dollars per year within a single plant. By implementing Vertica, Optimal+ is able to speed up analytical insights, combine data from different productions processes and gain visibility across the whole supply chain – leading to improved yield, quality and productivity for semiconductor and electronics manufacturers.
Join Alon Malki, Chief Architect at Optimal+, and Jeff Healey, Director of Product Marketing at HPE Vertica, to hear how advanced analytics and manufacturing intelligence can drive success in Industrial IoT. On this webinar you'll learn:
Why HPE Vertica Analytics Platform is purpose built for IoT data
The challenges Optimal+ faced when developing a solution for IoT analytics
How Optimal+ leverages HPE Vertica to create an ideal big data architecture